Here is the information on how to create a new event, or edit an existing event. Registering on the website allows you access to the private Membership information. To edit events, you also need the administrator to give you permission to make changes to the website. Contact the webmaster here.
Creating a new event
To enter a new event, click on add a new event, which you can do from the black bar along the top or clicking the link below. Enter the title. Click on the blue 'Publish' button top right to save and publish your event. The big white box is to enter the event's description. The event description can be left blank. You can click on Add Media to add a photo. You can click on 'Paragraph' to change any line into a heading. Then scroll down and click on 'The Event Calendar' to show the event form if it isn't already displayed.

Don't forget to give your event a category. All events need to belong to the 'All' category.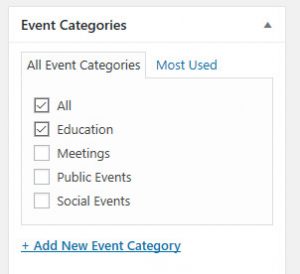 You can publish your event even if the information isn't complete, but click on 'Update' after that, to save your changes. Clicking update often is a good idea to avoid losing your work.
Editing an existing event
First of all login. Find the event in the calendar, and then look at the top of the screen to click on 'Edit Event'. After making changes, click on 'Update' to save your changes.